Romantic European - Start London, Return Eurostar, Small Group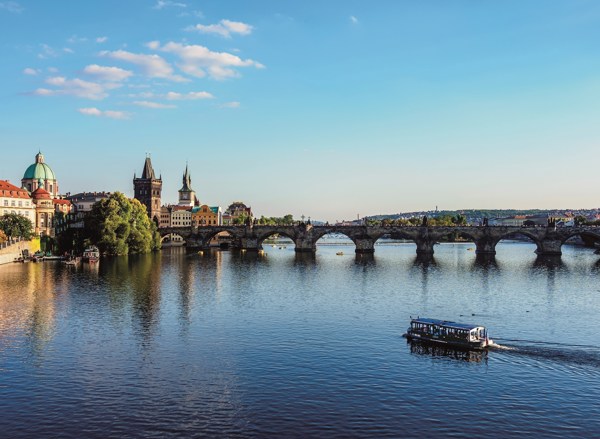 Romantic European - Start London, Return Eurostar, Small Group
From Prague to Vienna and onto Paris, this immersive tour of Europe takes in the mansions of Amsterdam, the Roman Empire relics of Rome and the breathtaking scenery of the Alps. Arrive at your Venice hotel by private boat, ahead of an exclusive dining experience at La Fenice restaurant, and sunset cocktails at Café Florian. In the Golden city of Prague, take your pick of Insight Choice experiences, touring the courtyard of a 1000-year-old Prague Castle and St Vitus Cathedral, or joining a Local Expert on an exploration of the city's historic Jewish Quarter, with a stop at a local bakery to sample Trdelník-a traditional Czech pastry. Journey onwards through the countryside forests of Bohemia to Hungary for a scenic Budapest dinner cruise, gliding past the city's UNESCO world heritage sites in style.
Dining Summary
18 Breakfast (B)
6 Dinner with Wine (DW)
2 Lunch with Wine (LW)
Choice Highlights
Choose between two carefully selected activities
Prague: Stroll through the Jewish Quarter with your Local Expert to hear how the Jewish community has shaped the history of Prague, and taste Trdelník, a traditional Czech pastry.
Prague: Visit the imposing St. Vitus Cathedral and explore the atmospheric courtyards of the historic Prague Castle with your Local Expert.
Choose between two carefully selected activities
Stanserhorn: Walk along beautiful scenic pathways at the summit of Mount Stanserhorn for a chance to see native animals like marmots.
Stanserhorn: Embark on a spectacular journey to the summit of Mount Stanserhorn and appreciate unrivalled views of snow-capped peaks. Meet a Swiss ranger and learn about the local wildlife and flora over a conservation talk. Learn about the conservation of the local ecosystem and local fauna from a Swiss ranger. Hear about what it takes to preserve the wildlife throughout the year and in all weather. This experience advances UN Sustainable Development Goal 15: Life On Land. Alternatively, walk along beautiful scenic pathways for a chance to see native animals like marmots.
Choose between two carefully selected activities
Paris: Shop in quaint boutiques like a true Parisian with your Local Expert.
Paris: Join an avid local foodie on a walk through the streets of Paris. Visit a variety of patisseries, boulangeries and chocolatiers and sample local treats and delicacies along the way.
Additional Included Highlights
: Our highly-skilled Travel Director will ensure your journey is seamless, serving as your expert guide, consummate organiser, and friend overseas.
: Personal radio headsets give you the freedom to wander during visits to famous highlights, without missing any of your Local Expert's fascinating commentary.
: We carry your bags for you and promptly deliver them to your hotel door.
: Hotel and restaurant tips are included - you'll never have to worry about how much to give, nor search for foreign currency. We also include all taxes and porterage charges at hotels.
: From time to time, your Travel Director will delight you with an Insight Flourish, which is a local specialty representing the destination.
: You may purchase arrival transfers from London Heathrow and Gatwick airports on arrival days, or when additional nights accommodation has been booked through Insight Vacations. If your departure flights are as per the itinerary end dates, departure transfers are available at scheduled times. If your flights are outside these times or you have booked additional nights accommodation with Insight Vacations, you may purchase transfers or make your own way to the airport. Alternatively, please make your own way from/to the airport.
Authentic Dining
Amsterdam: Toast to the travels ahead during your Welcome Dinner of modern European cuisine at a local restaurant.
Budapest: Enjoy a scenic dinner cruise and take in the city's night time beauty as you float along the Danube.
Venice: Sip cocktails alongside the canals at Cafe Florian, while being serenaded by an ensemble of talented musicians and soak up the calming atmosphere long after the day-trippers have returned to their mainland hotels.
Venice: Enjoy a special Venetian Celebration Dinner with wine at La Principessa.
Tuscany: Enjoy a tasting of locally made wines and sample delicious Tuscan snacks in the underground cellar of Machiavelli's home. While here you will visit the Italian gardens and be privy to a private opening of the office where he wrote 'The Prince.'
Umbria: Explore the art of Italian cooking with Chef Lorenzo followed by a tasty lunch.
Lucerne: Choose from a selection of restaurants on your Dine-Around Evening and hand-pick your preferred ambience, cuisine and drinks for an intimate culinary experience.
Paris: Join an avid local foodie on a walk through the streets of Paris. Visit a variety of patisseries, boulangeries and chocolatiers and sample local treats and delicacies along the way.
Paris: Rendezvous with your friends at a typical French bistro for a rousing Celebration Dinner with wine. Bon Appetit!
Insight Experiences
Vienna: Be pampered by locals with traditional coffee and cake. An experience like no other, this cosy café provides companionship, and promotes well-being and support for the community, in addition to crafting delicious treats.
Tuscany: Meet your Local Expert for a guided visit through the house of the Italian Renaissance diplomat and writer, Niccolo Machiavelli, with a special opening of his private office where he wrote 'The Prince.'
Vatican: Gain priority access into the Vatican Museums and admire the famous Bramante Staircase. Witness the genius of Michelangelo in the Sistine ...

Travel is our passion and every step is designed with your comfort and pleasure in mind, giving you the vacation of your dreams. Enjoy a premium journey packed full of stylish hotels and authentic dining. Savor the views as you travel on spacious customized coaches, so that you arrive refreshed at each destination, and benefit from smaller group sizes. We believe incredible travel is about enjoying every moment, so the only question left for you is where do I want to go?